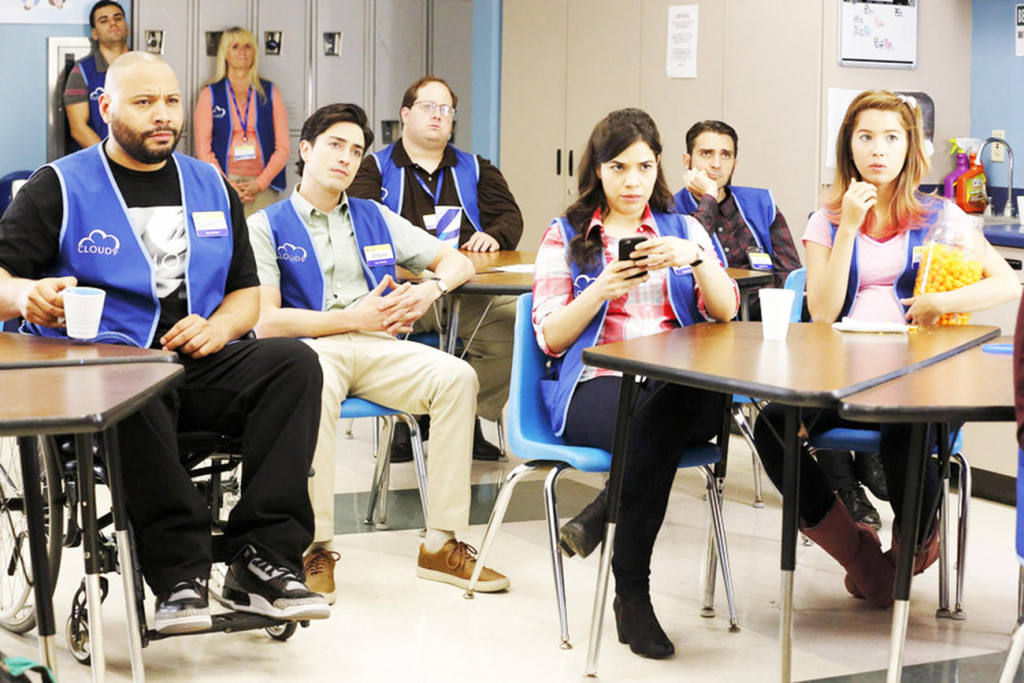 I caught the pilot episode of NBC's newest sitcom Superstore, which is about employees who work at the fictional Cloud 9 megastore.
While I would describe the sitcom as a satirical look at the world of retail, professional TV show reviewers use the word dysfunctional to refer to the dynamic among the Cloud 9 employees. I would argue that the dysfunctionality extends beyond the employee dynamic to the general operation of the store from hiring practices and diversity, to training, to management practices.
As a result, this sitcom is a breeding ground for training lessons learned for small and larger retailers alike. Of course, my interest was directed toward how training was represented in the show and sadly it wasn't too far off the mark for many retailers. That is not to say there are not some retailers out there who invest a lot in training, but too often training is not seen as a strategic priority.
Training Lessons: Parallels in Real Life
Early in the episode, new employee of five minutes, Jonah (played by Ben Feldman), chases his supervisor Amy (played by America Ferrera) down the aisle. His burning question, "Hey, do I get any type of training? I'm just standing around." To which a busy Amy replies, "You'll figure it out."
I'm sure Jonah's confession that he was just standing around was all too familiar for many consumers watching the show. Employees who are just standing around are perceived by shoppers as being unhelpful and by supervisors as being lazy – but maybe they just don't know what to do – like Jonah.
The "you'll figure it out" training method tends to happen because retail owners or store managers assume their employees know about retail. The reality is that new employees may know how to shop and be a customer at a retail store, but they don't necessarily know what it means to work in the store. My first job as a teenager was in retail, and I remember clearly there was no onboarding, no orientation, no training videos or eLearning. I was assigned to a department and given tasks to do that I didn't know how to do. Somebody had to show me – on-the-job.
Next, let's take a look at Cloud 9's approach to on-the-job training.
Cloud 9 Training
In another segment of the sitcom, Amy asks Jonah to do a 25% markdown for products on sale. She then quickly demonstrates the task of entering markdowns into a handheld Telxon gun. Her demonstration was quick and efficient – press here, enter this, click that – and Jonah was sent on his way. We see him 'figuring it out' in various scenes and at one point he shouts, "I think I've figured it out!". But later, panic ensues when it becomes apparent that Jonah made a huge mistake.
Everything in the store, including 42 inch televisions sets, were ringing up at the register as twenty-five cents. The chaos that followed was hilarious, but the risks of losing profits as a result of no or poor training is no laughing matter for small and large retailers alike.
So what lessons can we learn about training from watching Cloud 9?
Training Lessons from The Show
Lesson 1 – All new employees need an orientation to the store, an overview of their job responsibilities, and a run-down of management expectations that shows their role in store operations and customer sales is important.
Lesson 2 – If new employees are 'just standing around' because they don't know what to do or how to approach and sell to customers, they are not being productive or contributing to a positive shopping experience that leads to sales. Give employees direction on what to do to keep busy and how to connect with customers, initiate authentic dialogues with customers, and encourage customers to become engaged in their shopping experiences.
Lesson 3 – On-the-job training needs to be more than the "Follow Joe" training method where new employees learn by watching an experienced employee do the task. It needs to be structured and consistent so each employee receives the same instruction on how to do specific tasks, as well as consistent training messages about specific tasks and customer service expectations.
Lesson 4 – Someone in the store needs to be responsible for training new employees and overseeing the training function following a checklist of store operational tasks and sales tasks that all floor associates need to know.
Lesson 5 – When demonstrating a task to a new employee, break the task down into manageable steps the employee can remember. Show them each step and tell them why the step is important. After demonstrating the task, ask the new employee to do the task and observe providing feedback and constructing coaching. Repeat this process until the employee can do the task without error. Taking the time to be sure the employee performs the task correctly reduces costly performance mistakes later.
Learn from Cloud 9
The Cloud 9 superstore obviously has a training gap in store operations, sales and service skills, and store policies like diversity, sexual harassment, and safety. I'll be watching for additional training lessons we can learn from future episodes.