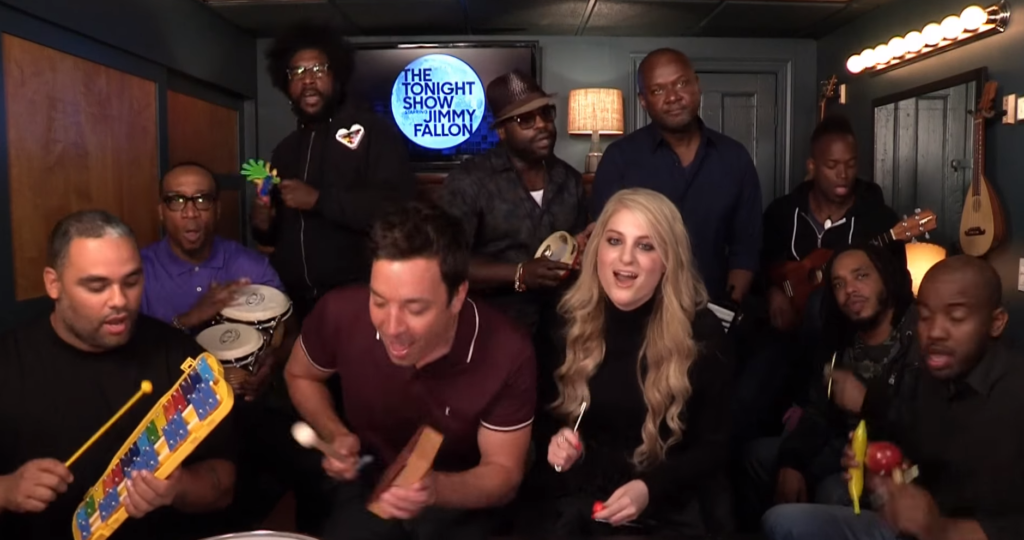 Jimmy Fallon, The Roots, and Meghan Trainor teamed up to sing "All About That Bass" using only classroom instruments.
As evident from the music video, this group of creatives know an important lesson: It's not always about your tools.
Sure, these celebrities have access to the newest, most expensive instruments on the market. It's The Tonight Show, after all. But anyone can do a sing-along music video.
However, using gadgets like xylophones, kazoos, and banana shakers make it a lot more fun and interesting. Add some bongos and slappy hand clappers, and you've got a recipe for fascinating content.
With almost two million views after one week, it appears that the combination of big names and their quirky take on a beloved song is resonating with viewers.
So that made us think: This same lesson can (and should) be applied to the subject of eLearning.
High Creative Value, or High-Tech?
When you're collaborating on an eLearning design, it's important to ask yourself, "Do I want a course that's fun and engaging for learners with creative touches that make the material stick, or do I want to invest in a course that utilizes the top-of-the-line developing tools but puts less focus on the creativity aspect?"
Unfortunately, it's true that often times you have to choose between the two options—not get both. If you are forced to make that decision, remember what the goals for your eLearning course are and resist the temptation to be swayed by fancy new tools and platforms that sound great, but don't deliver the results you're after.
With an eLearning Design, Find a Happy Medium
Ideally, a skilled eLearning designer will work with you to find a happy medium between the important creative elements your learners benefit from and a versatile platform that can work with all of the training requirements your material entails.
Sometimes it's a mixture that works best—blended learning can be a powerful option for clients who need some live training to compliment the eLearning portion of training. Whatever solution you choose, just remember: Keep the focus on your training goals—not the capabilities of the technology being used to teach them.
You might find a platform with lots of bells and whistles, but unless they actually help enhance your training, they might be a distraction to your learners.
Thanks, Jimmy
Who knew a three-minute sing-along could be so insightful? The lesson here is an important one—even if it comes packaged as a Meghan Trainor song.
When it comes to creativity versus technology, choose the one that's most beneficial to your audience. Find a way to get the best of both worlds. And don't be afraid to add just a little more cowbell.